Gog & Magog 2.0 - Putins Tale - Nye AtomVåben

af ChaosNavigator

It is indeed set, match and game over for the Empire: there is no more military option against Russia.
-The Saker, 1. marts 2018

Putin har idag ved middagstid holdt en tale, som var en monumental militær magtdemonstration i overlegen våbenteknologi. Der er tale om et militært paradigmeskifte, en Game Changer i krigsførelse. Denne offentlige showcase demonstration kan kun tolkes som, at Rusland føler sig truet, ikke mindst at man anser udvidede krigshandlinger mod Rusland for at være nært forestående, hvorfor den tiltænkte afskrækkelse i form af ny russisk militær teknologi publiceres for verden. Det er et særdeles radikalt PR stunt uden præcedens - og en meget, meget alvorlig advarsel til USA og dets vassalstater (danske medier er dødeligt tavse om betydningen af Putins tale, endsige tolker en fodnote korrekt).
Putins tale idag var uden præcedens, et vink med en kæmpe vognstang, om konsekvenserne dersom mørkemændene i vestens psykopatokrati eskalerer konflikten yderligere - den demonstrative afsløring af russisk ny teknologi overfor verden var en respons på, at Rusland opfatter vestens nye nukleardoktrin samt potentielle planer om at udvide krigshandlinger, som destabliserende i det ekstreme.


Putin udtalte bl.a., at det nye arsenal - 6 nye våben primært - vil gøre USA's missilskjold 'nytteløst', fordi de nye våben ikke kan opfanges. En anden utrolig implikation er, at søfartskrig er forbi, dvs. krigsskibe er forsvarsløse.
Disse våben inkluderer bl.a:
Et nuklear-drevet nyt krydsermissil, som kan manøvrere taktisk og agilt udenom forhindringer med

'ubegrænset rækkevidde'

En nuklear-drevet undervands drone, en interkontinental torpedo armeret med atomvåben, som både kan ramme baser, kyster, hangarskibe, etc.

Et nyt hypersonisk interkontinentalt atommissil, et rumvåben som ikke findes andetsteds i verden (+20 Mach = 25.000 km/t)

Lasere
Video som viser nogle af Ruslands nye våben, Putins genvalg er i hus på forhånd, denne opvisning skyldes ikke ruslands valgkampagne, som nogle letkøbt påstår, men mangeårig eskalering, specielt i form af USA's nylige brud på nukleardoktriner
(uden præcedens)

, NATO's militære trusler, Syrien, Ukraine, m.m.
Med USA's missilskjold som omringer Ruslands grænser (til dels) var doktrinen om MAD balancen brudt (Mutually Assured Destruction). Denne balance er nu genoprettet. På et dybere plan er det snarere den store MAD ubalance, som i teorien hindres i at blive endnu mere uafbalanceret med uafbalancerede midler qua MAD-strategien, som i sagens natur er sindssyg til at starte med, nemlig mad.

RT 1. marts 2018 - VIDEOS:
'Listen to us now': Putin unveils new Russian nuclear arsenal
Analyse af den tilspidsede situation i Syrien
USA har brudt det store tabu, nemlig ændret nukleardoktrinen
i feb 2018,

og erklæret at de vil svare igen med nukleare våben dersom de bliver angrebet af konventionelle våben,
8000 milliarder kroner for nukleart globalt holocaust i en ny amerikansk vanvidsdoktrin. USA bryder traktater i den konstante internationale lovløshed: A new nuclear arms race is upon us .
Rusland er generelt angrebet og under belejring 24/7 fra Neocon/Ziocon-mafiaen USA og allierede.



1. Marts: Lavrov: 'US are Training Europeans to Use 'Mini-nukes' Against Russia'

RT 1. marts 2018: Putin: US deployed 5 cruisers, 30 destroyers near Russian borders as part of missile defense system


February 28, 2018 - den eminent dygtige analytiker, The Saker: Escalation In Syria – How Far Can The Russians Be Pushed?

For kommende uovertruffen analyse af Putins tale, hold øje med næste post på The Saker: http://thesaker.is

UPDATE: The Saker har nu postet sin foreløbige analyse:
Putin's stunning revelations about new Russian weapons systems
Putin's annual address to Federal Assembly (FULL VIDEO)
Does anyone in the West understand what the real point of Putin's
comments about Russia's new weaponry?


Se også Dr. Paul Craig Roberts analyse


Delvist resumé af Putins tale:

10:13 GMT
The address moved to security issues. Putin outlined the massive upgrade of the Russian military and the successes Russian forces achieved in Syria.

10:25 GMT
Russia is developing strategic missiles in response to the US withdrawal from the Anti-Ballistic Missile Treaty, Putin said. Moscow objected to the US move, but Washington nevertheless went ahead. The ABM Treaty was insurance against a pre-emptive nuclear strike by either side. The US withdrawal in 2002 was a bad move, Putin said, but Russia sought ways to control the damage done by it. The US was unresponsive and all those attempts failed, Putin said.

The US arrogance stemmed from the losses this country suffered with the break-up of the Soviet Union, Putin said. Russia's position in the 1990s was so weak that the Americans didn't believe it could recover anytime soon, so Washington decided to achieve total military superiority, which would allow it to dictate terms in other areas.

The US continues to develop its antiballistic missile capabilities, and this undermines the value of the nuclear reduction agreements, like the New START treaty. The US is working hard on its ability to intercept missiles.

Russia's response to this threat was to develop new and better strategic weapons, with improved counter-measures that make them harder to intercept. Russia has also developed the new heavy ICBM known as Sarmat, which is to replace the ageing missiles Russia currently has.

The capability of Sarmat was showcased in a video shown to the audience. The video showed that the missile can attack American territory not only from the north but also from the south, making it a better deterrent to American ambitions.
10:26 GMT
— RT (@RT_com) 1 марта 2018 г.
10:28 GMT
Another response is a new, powerful nuclear reactor which can be mounted on a sea-launched or air-launched cruise missile and greatly boost its range. The range is basically limitless, Putin said as a video was shown illustrating his words

10:31 GMT
Yet another weapon is an underwater drone with great endurance and stealth capabilities, with a nuclear reactor smaller and more powerful than earlier models, Putin said. The drone can counter enemy aircraft carrier groups and attack shoreline defenses.

10:33 GMT
Russia is yet to choose names for these two weapon systems; the global cruise missile and the underwater drone. The defense ministry encourages people to volunteer their suggestions, Putin said.

10:36 GMT
Another advanced weapon system Russia now has is a hypersonic missile, Putin said. The system has finished its trials and is currently deployed in pilot mode in southern Russia. The missile is launched from an aircraft and reaches a speed of Mach-10 while maneuvering to pierce through anti-aircraft systems. The weapon is called Kinzhal (='dagger') and can be fitted with a nuclear warhead. A video demonstrated the weapon's capabilities.

10:39 GMT
Even that is not all: Still another new weapon that Russia has developed is a hypersonic gliding warhead, Putin said. He added he had personally and openly warned that Russia was working on ways to counter American anti-missile capabilities as early as 2004. But the US chose to ignore this warning and didn't want to listen to those words. "You will listen to us now," he said.

10:41 GMT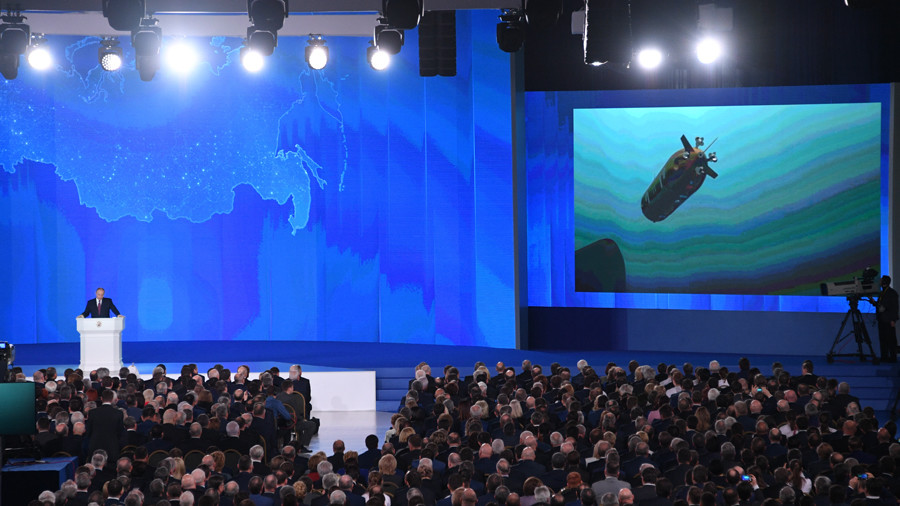 ______________________________________________________



Tidligere rapport om militære russiske tiltag:


onsdag den 25. november 2015 - Paradigmet


Gog & Magog - HI-Tech Krigsførelse
(slettet men her en kopi via Wayback Machine)


af ChaosNavigator
Russiske Krydsermissiler affyret fra det Kaspiske Hav - russisk militær teknologi er i flere henseender nu årtier foran USA




INTET dansk medie har bragt følgende historie (check selv på Google) - Paradigmet er det eneste medie i DK som bringer historien (un-fucking-believable) [Update; i oktober 2016 publicerede EB, BT og Berlingske man i danske medier historien om torpedoen....med næsten et års forsinkelse....zzz..danske 'public service forpligtelser' er en dødelig joke]:


BBC: Rusland afslører 100 Megaton Nuklear Torpedo med Koboltsprænghovede,der kan rejse en 500 meter høj radioaktiv TSUNAMI!

100-megaton sprænghovede kan smadre den amerikanske kyst med en massiv tsunami og intens radiokativ stråling

Den Sovietiske "Tsar Bombe" var den største nukleare eksplosion nogensinde - den var på 'kun' 58 megaton [1]

Torpedoen ville rejse en 500 meter høj tsunami

Rækkevidde på torpedoen er 10.000 kilometer

Dette dommedagsvåben ville 'garantere at alt levende ville blive dræbt' der ville ikke engang være overlevende i bunkere. Kobolt-59 ville blive transmuteret til ekstremt radioaktivt kobolt-60

Sådan en torpedo blev visualiseret i 1950'erne under den kolde krig af nuklearfysikeren, Andrei Sakharov - senere en berømt dissident og fredsaktivist

Hastigheden er 185 kilometer i timen, og vil undgå alle sonare fælder

Nogle kommentatorer antyder, at denne læk på TV, angiveligt en fejl, i virkeligheden var forsætlig - Russian 100 Megaton Russian Nuclear Torpedo, with cobalt warhead able to create a radioactive 500m Tsunami
http://www.bbc.com/news/world-europe-34797252



En af de bedste militær-analytikere om dette 'dommedags-våben' og denne episode:

Did Russia just "gently" threaten the USA?
http://thesaker.is/did-russia-just-gently-threaten-the-usa/


En imaginær samtale om dette emne:
Skeptikeren: Jeg vil være den første til at sige, at dette dommedagsvåben er bluff, det eksisterer ikke, og vil aldrig eksistere. Jeg har set mange tegninger og præsentationer af ting som lød eller så imponerende ud på papiret, men som viste sig at være bullshit. I dette tilfælde er der ikke engang en præsentation, kun en skræmmende tegning. Hvis dette var en salgspræsentation, og med denne information som det eneste, ville ingen købe den. Så hvorfor tror folk på det uden yderligere bevis eller demonstration? De store undersøiske tests i 60'erne i Stillehavet beviste, at undersøiske atomvåben i stillehavet ikke er ret effektive, og at de potentielle skader er MEGET begrænsede.Forsøgene i Bikini viste, at skibe kun er i alvorlig fare indenfor den umiddelbare aktionsradius af eksplosionen, mens andre skibe kun 3-4 kilometer derfra kun viste tegn på skader som ikke var katastrofale. Hvis jeg var en rig investor, og jeg så denne tegning, med tilhørende fantastisk marketing spin, og konkurrenterne viste mig en Trident opsending (ICBM) som bevis på, hvad de solgte, ved jeg hvad jeg ville vælge.

Agnostikeren: OK, så medmindre Rusland inviterer den amerikanske generalstab over for at de personligt kan observere russernes seneste hemmelige militærteknologi, så eksisterer den ikke? Er det propaganda? Absofuckinglutely!!
Men du og jeg kender ikke forskel på skidt og kanel i denne sammenhæng mht. hvad der er det ene eller det andet lands militære hemmelige isenkram. En tegning betyder ikke meget for dig eller mig. For den militære elite kan den betyde noget helt andet. Hvem kan afgøre om den amerikanske regering ikke allerede ved, at Russerne har dette våben, og at det virker. Vi affyrer et Trident missil, og Russerne lækker en tegning for at påminde amerikanerne om, at Rusland har dette våben og at det virker - blot som en påmindelse til topstaben. Du og jeg ler, men for Pentagon er det 'blot' en endnu advarsel fra Russernes side. Det kan være svindel og bluff, og jeg er sikker på, at de folk som ved det, kan kende forskel på om det er er eller ej, men den generelle befolkning vil aldrig vide det, måske om 20 år, i værste fald, når det bliver taget i brug.

Nogle få vigtige geopolitisk militære bulletpoints for november 2015:

For FØRSTE GANG siden 1950'erne, har USA ikke et eneste hangarskib i regionen.

USA har trukket alle hangarskibe tilbage fra middelhavet, den persiske golf, og det indiske ocean.

Muligt clue og årsag, det skete efter, at Rusland demonstrerede en magtopvisning i ny krydsermissil teknologi afskudt fra det kaspiske hav mod terrormål i Syrien. Denne teknologi er amerikansk krydsermissiler overlegne, og har sendt rystelser gennem de amerikanske og vestlige millitære kredse. USA troede, at de havde patent på den type af krydsermissiler (Tomahawk og Patriot). Den russiske tech er ny og opgraderet.
Et nukleart Trident ICBM missil blev sendt op af USA fra en ubåd, og blev set af millioner af mennesker ud for Californiens kyst. Samtidigt var der en totalt underrapporteret eksplosion ved Salton Sea inde i Californiens fastland over 100 kilometer øst for San Diego.
Nogle dage efter svarer Rusland igen med opsendelse fra ubåd af to rapid fire nukleare ICBM Bulava missiler. Det er nærliggende at tolke, at denne tvillinge-missilopvisning var en respons på Trident missilet i Californien.

Verden mest effektive og frygtede missiler S-400 er blevet udstationeret i Syrien. At Rusland har stationeret S-400 missiler i Syrien (allerede i starten af november) er signifikant , fordi ISIS ikke har noget luftvåben. Clue: det er ikke pga. ISIS, at S-400 missilerne er blevet udstationerede i Syrien

Rusland har demonsteret og udstationeret avancerede jammingsystemer i Syrien så fjenden er blind. ALLE elektroniske NATO-systemer bliver gjort blinde og lamme.
Rusland kan deaktivere NATO's elektroniske systemer med elektronisk krigsførelse, så de er ubrugelige, også AEGIS, og dette blev demonstreret i Sortehavet, da et russisk SU-24 som var uarmeret overfløj Destroyeren USS Donald Cook mange gange (som har NATOs mest moderne våbensystemer) og intet fungerede på destroyeren. Dette har efter sigende demoraliseret besætningen totalt, og desuden chokeret vestlige millitærkredse, og er tys-tys. Uvidende borgere slaver i Die Dumme Dänemark får selvfølgelig intet at vide af den danske retarderede og løgnagtige presse heller, som er ligeså sovset ind i debil ligegyldighed.
Rusland vil sandsynligvis nu bruge denne teknologi for at beskytte deres piloter i Syrien efter Tyrkiets hovedløse og løgnagtige provokation, idet Tyrkiet er i seng med ISIS.
USA's to high-tech Blimp JLENS 2.7 milliard dollar luftskibe, hvis delvise formål er at detektere indkommende missiler mod USA, er blevet midlertidigt suspenderede efter et uheld, da en JLENS rev sig løs og skabte kaos.
Russerne er overlegne i millitær konflikt, bl.a. pga. mere behændigt mobilt millitær udstyr , opgraderinger m.m.(Legendary US Army Commander Says Russia Would "Annihilate" US In Head-To-Head Battle http://www.zerohedge.com/news/2015-11-07/legendary-us-army-commander-says-russia-would-annihilate-us-head )
Rusland lancerer nyt super missil - og har 3 nye ICBM i produktion - russisk nuclear ICBM tech og andre missiler er nu årtier foran USA, hvis Minuteman III er fra 60'erne og Trident II fra 80'erne.


_____




Målet har hele tiden været at fjerne Assad i Syrien. ISIS er støttet af vestlige og mellemøstlige efterretningstjenester for at destablisere Syrien for at fjerne Assad. Dette er ikke lykkedes. Syrien fik hjælp af Rusland i hht. international lov, og har fortløbende i effektive operationer med luftstyrker og krydser missiler angrebet ISIS-styrker, Al Nusra, Al-Qaeda, m.fl. med stor succes - og de har kontrol over store dele af luftrummet i Syrien, og har etableret en no-fly zone for NATOs fly siden sep-okt. En aktion mod ISIS skal koordineres med russerne ellers kan NATO-alliancen ingenting. De er dog ikke begejstrede for, idet de uofficielt bruger ISIS og al-qaeda som plov for at fjerne Assad - af samme grund bliver NATO gjort suspekt til skamme, idet de ikke handler på Ruslands gentagne opfordringer om en fælles aktion om at bekæmpe terroristerne.

_____________________________________________________


[1] The original, November 1961 AEC estimate of the yield was 55–60 Mt, but since 1992 all Russian sources have stated its yield as 50 Mt. Khrushchev warned in a filmed speech to the Supreme Soviet of the existence of a 100 Mt bomb. (Technically the design was capable of this yield.) Although simplistic fireball calculations predicted the fireball would hit the ground, the bomb's own shock wave reflected back and prevented this.[12] The fireball reached nearly as high as the altitude of the release plane and was visible at almost 1,000 kilometres (620 mi) away from where it ascended. The mushroom cloud was about 64 kilometres (40 mi) high (over seven times the height of Mount Everest), which meant that the cloud was above the stratosphere and well inside the mesosphere when it peaked. The cap of the mushroom cloud had a peak width of 95 kilometres (59 mi) and its base was 40 kilometres (25 mi) wide. All buildings in the village of Severny (both wooden and brick), located 55 kilometres (34 mi) from ground zero within the Sukhoy Nos test range, were destroyed. In districts hundreds of kilometers from ground zero wooden houses were destroyed, stone ones lost their roofs, windows and doors; and radio communications were interrupted for almost one hour. One participant in the test saw a bright flash through dark goggles and felt the effects of a thermal pulse even at a distance of 270 kilometres (170 mi). The heat from the explosion could have caused third-degree burns 100 km (62 mi) away from ground zero. A shock wave was observed in the air at Dikson settlement 700 kilometres (430 mi) away; windowpanes were partially broken to distances of 900 kilometres (560 mi).[13] Atmospheric focusing caused blast damage at even greater distances, breaking windows in Norway and Finland.
https://en.wikipedia.org/wiki/Tsar_Bomba